Vacations are good for the body and good for the soul.  If you do a vacation right, you come back feeling refreshed and eager to return to work. (Quoted from The Little Book of Stress Relief by David Posen.)
I just returned from a one-week vacation with my sweetie. We stayed at the Blue Bay Grand Esmeralda all-inclusive resort in Playa del Carmen, Mexico… and had an excellent time. This was my first all-inclusive experience. I loved it and so did Vera!
Not taking vacations can decrease your overall productivity, increase stress and other health risks, and increase the likelihood you'll burnout at work. But taking a vacation helps revive the heart, rejuvenate your body, recharge your mind, and soothe your soul. Studies have found that people who engaged in more leisure activities reported more life satisfaction, fewer negative emotions, tended to be more spiritually connected, and reported having a lot of support from family and friends, making them feel more content.(Quoted from Psychology Today.)
Well then, sign me up for more vacations! (The last tropical vacation I took was in January 2011, to the Puerto Vallarta area. The rock I'm climbing in the photo below is quite interesting in that the lower layers are made of sandstone embedded with black volcanic rock. The sandstone is prone to crumble and the volcanic rock falls out, if you're not careful to put as little weight on the footholds as possible. Once above the sandstone, there are layers of more solid and safe grey-coloured rock to climb more securely.)
Last Monday, Vera shot me doing a little barefoot climbing on the beach accessible from the Tulum archaeological site…
That rock is beautiful limestone, formed from coral and shells. You can see more photos that we took at Tulum below…
Not taking time off regularly can lead to serious health problems. The results are comparable to chronic stress, when there is no reprieve not just from one's workload but also from repetitive routines. (Quoted from Huffington Post.)
Last night Vera told me she hadn't realized how much stress she was under before the vacation, because she was so used to it. She was carrying a lot of tension in her body. But once we were away from the people with whom we normally spend time… and away from our usual environments and routines… she was able to really relax and that's when she realized how high-strung she'd been before. Now I know that the vacation did us both a world of good.
I'm so glad I decided to get back into taking vacations regularly. 
Get away — often.  It's a fact: People who take vacations have lower stress and a less risk of heart disease — not to mention a better outlook on life and more motivation to achieve goals. (Quoted from WebMD.)
Vacations and breaks are just what the doctor ordered!
If you'd like to see some photos and hear some stories from our vacation, read on…
On our second day there (January 10), a professional photographer guided us through a photo shoot.
By the way, we took this vacation to celebrate our successes. Vera, graduating at UBC, and myself, getting a great job in 2013 and surpassing my income goal for that year.
Almost every day we saw groups of these cute little critters…
 Here's one of them close-up, sticking out his tongue…
We ate in the Mexican restaurant that night and thus began our descent into alcoholism… (Just kidding.)
The next day (Saturday) we spent some time in the lovely pool at Blue Bay, where you can lie on lounge chairs right in the pool.
It was so relaxing here.
Wow.
It's truly a place of beauty. Before this, Vera was used to spending much of her time in a place of mind (UBC).
We ate so much delicious food! And back to the pool after lunch…
Then we moved so we'd be close to the fountain in the pool, as well as the beach…
As we were leaving the pool, we noticed a beautiful light effect in the sky…
Wow. I believe we ate in the Italian restaurant that night. It was the best one.
On Sunday, we lounged on the beach, explored the resort and did some levitating. And Vera managed to make me look great in a photo. She wants me to get into modelling. I want her to get into photography.
Vera was so happy because I caught her properly in the air shot. The timing was a bit of a challenge. She did a happy dance… anyway that's why she's beaming in that shot.
The first time I went to Tulum was at age four. My dad took me. At age five, I returned with both my parents.
I was stoked to be going back to Tulum!
The next day (January 13) we went to Tulum to see the ruins and the beautiful white sand beach.. and then to Xel-ha in the afternoon for some sightseeing, eats, drinks and siesta…
 Here we are at the entrance to the ancient city of Tulum, which was a port…
It is amazing how long these stone buildings last.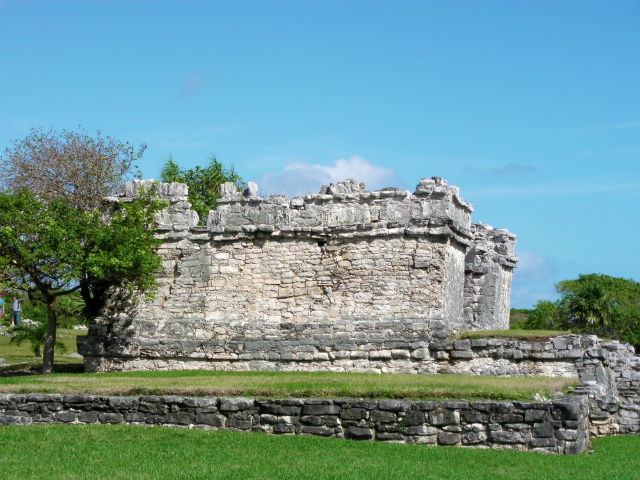 There is a coral reef (I think) about 300 metres off shore. It breaks the surf so it's much gentler at the shore. You can see the surf breaking on the reef in the photo above.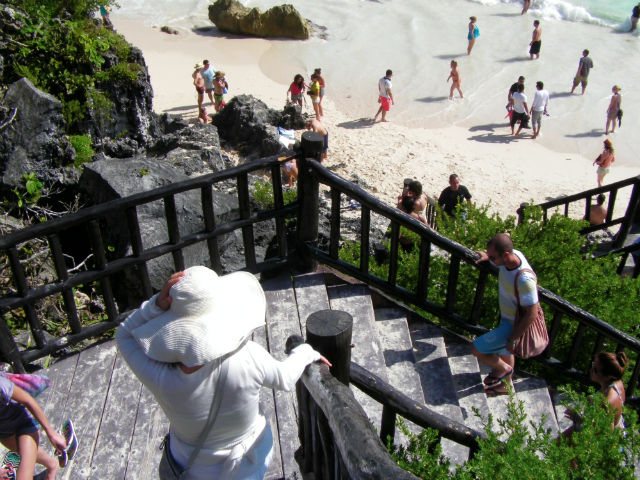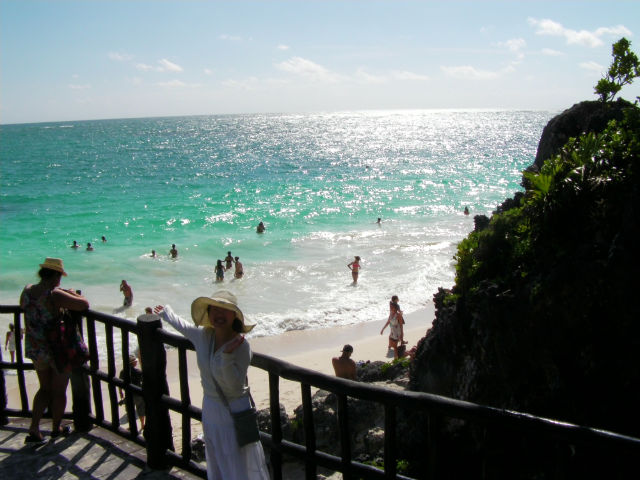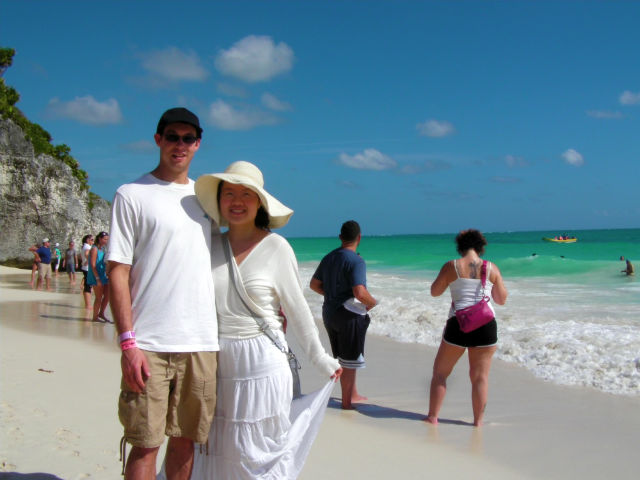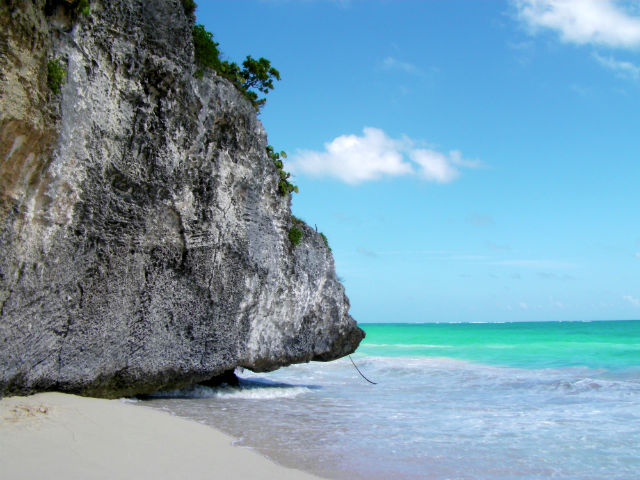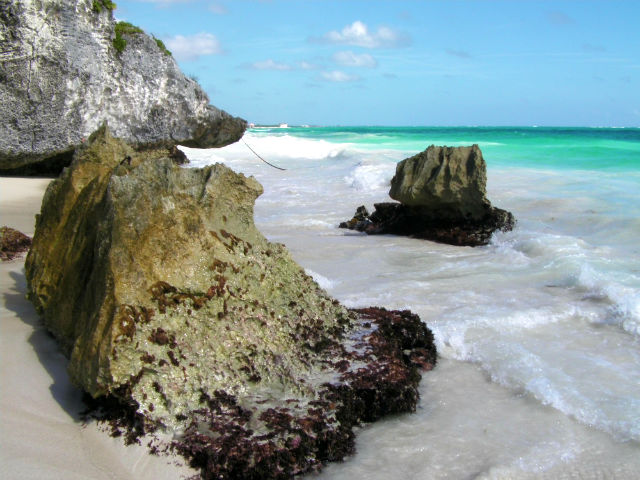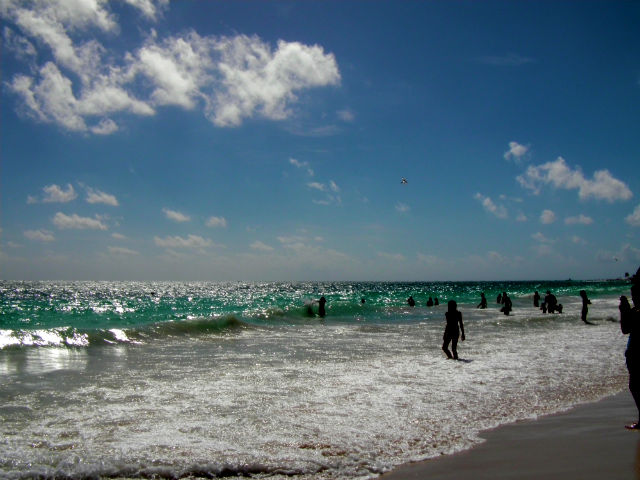 I cut the fingertip of the middle finger on my left hand on the second or third little climb. But I still went for it again. Next time, I'll bring finger tape so I can protect my fingers and climb more adventurously without getting hurt. I'll bring my climbing shoes too for the same reason.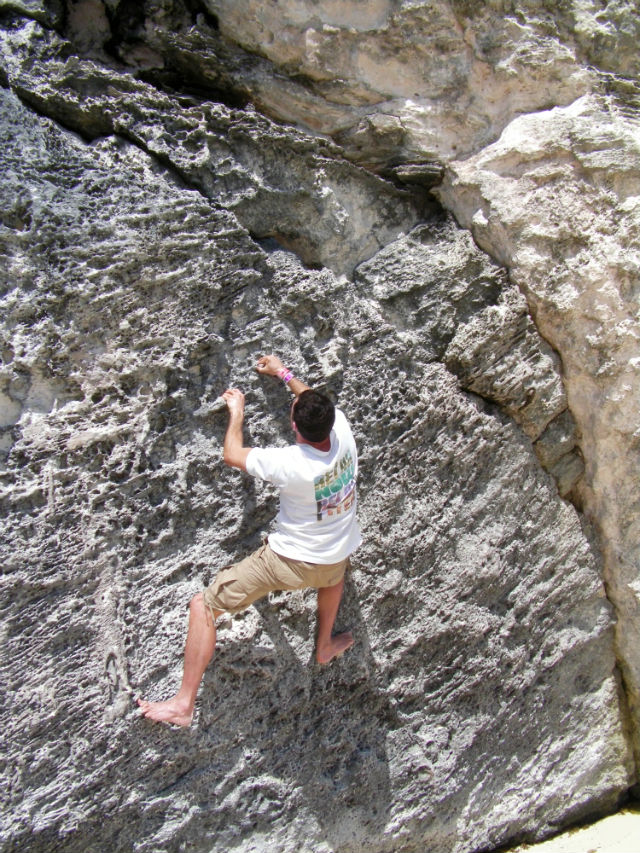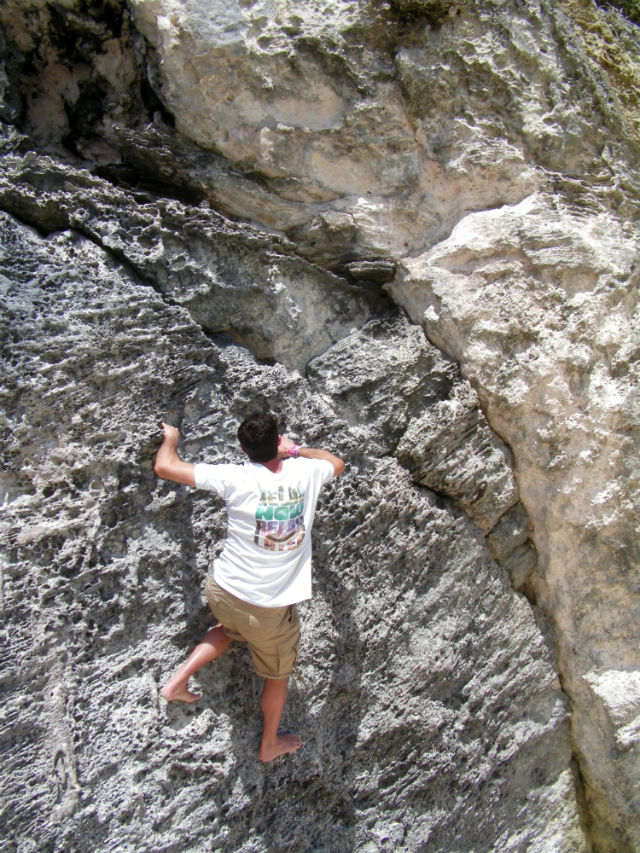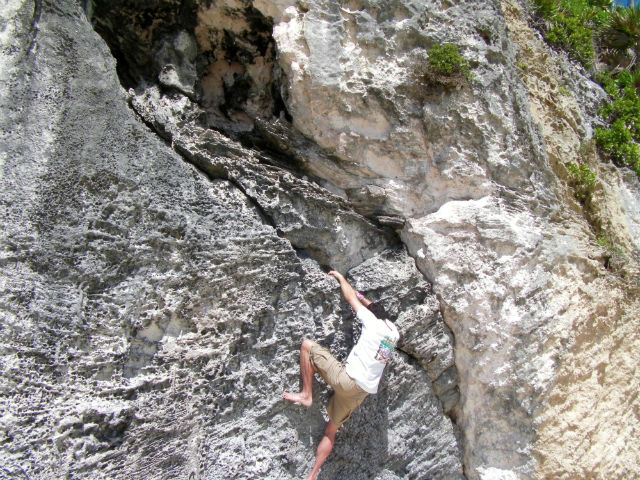 I love climbing limestone above sandy beaches or over water, partly because it's beautiful and partly because I can jump down to a soft landing whenever I like.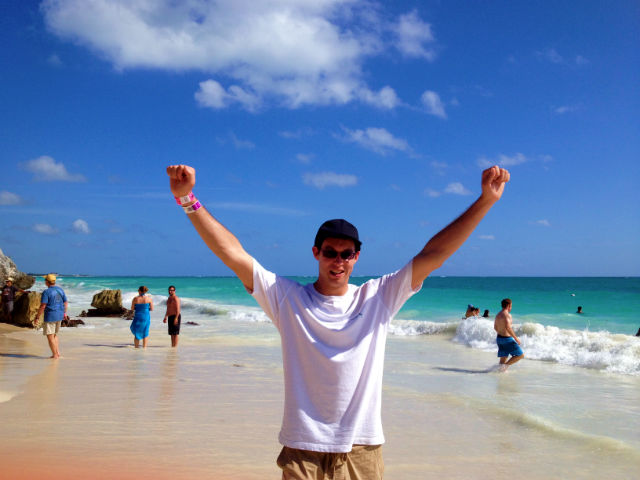 I would have loved to have spent more time on the beach at Tulum (and I will another time) but we had to get back and catch our bus to Xel-ha. So we climbed back up the stairs and did a little more sight-seeing on the way back…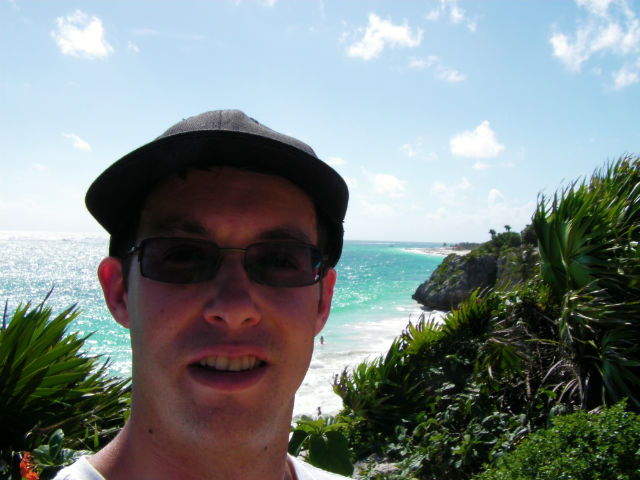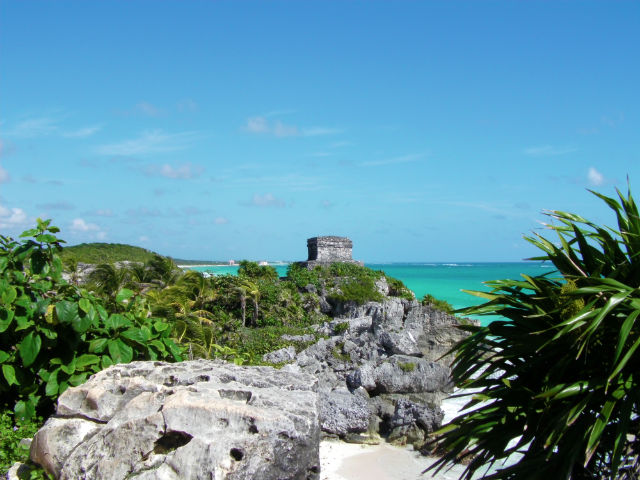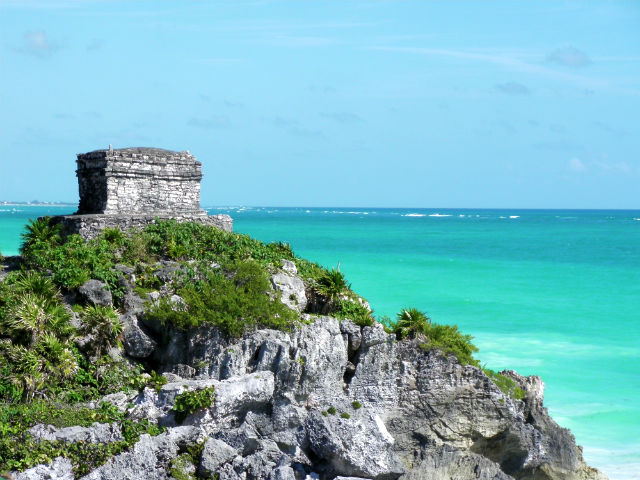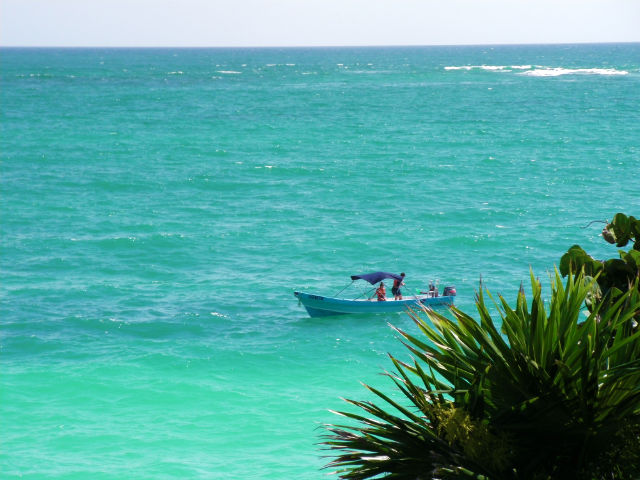 That was it for Tulum. Just a very short visit this time.
At Xel-ha, we saw dolphins jumping over people, relaxed in hammocks while listening to marimba music, had some drinks, ate a delicious Mexican lunch with mole, went sight seeing and rode bikes. The place is super cool. There are parrots flying free and you can get within a few feet of them.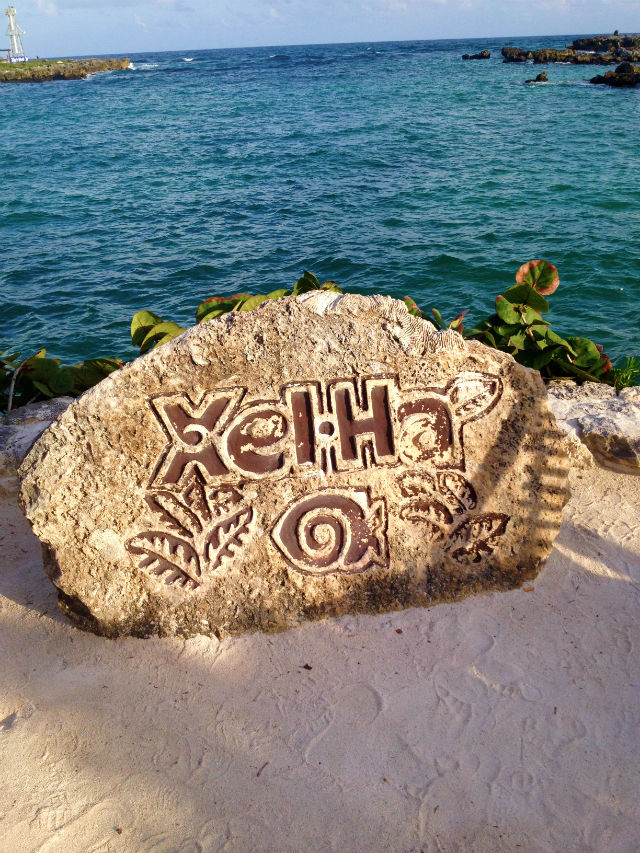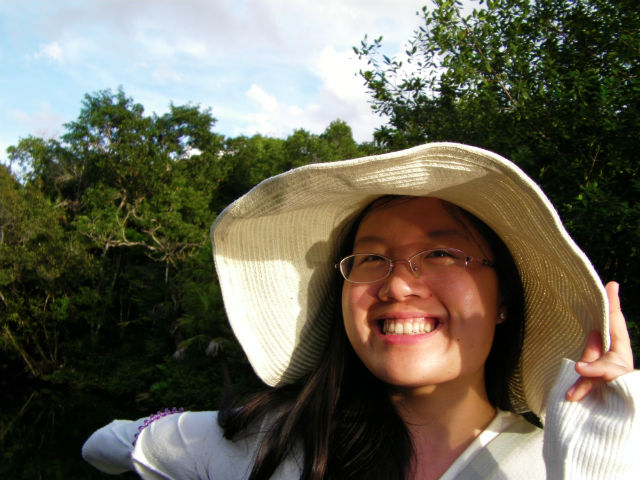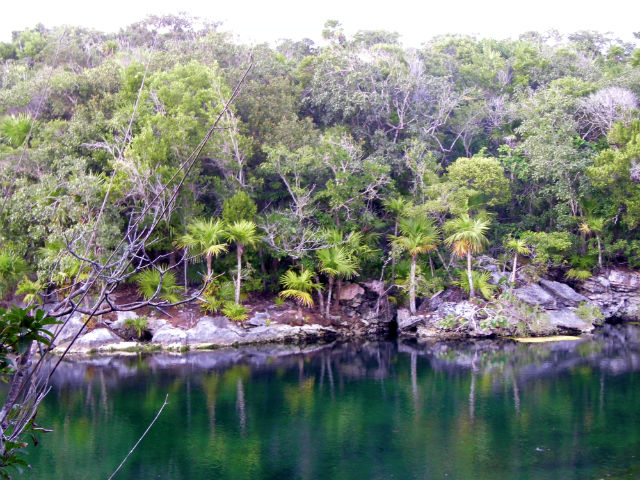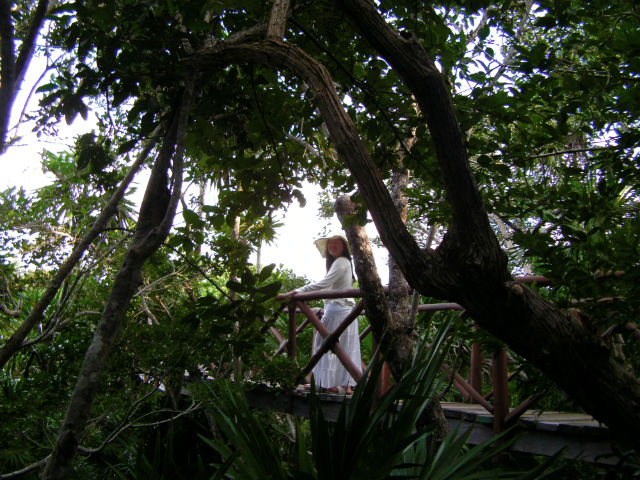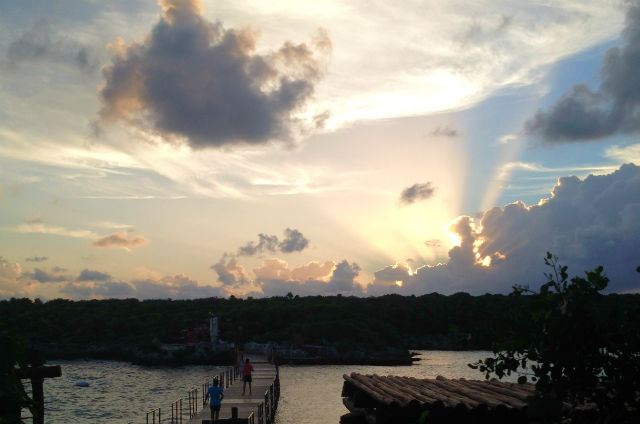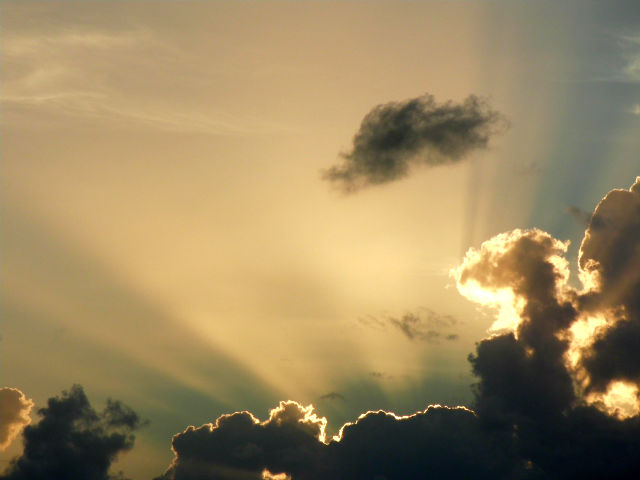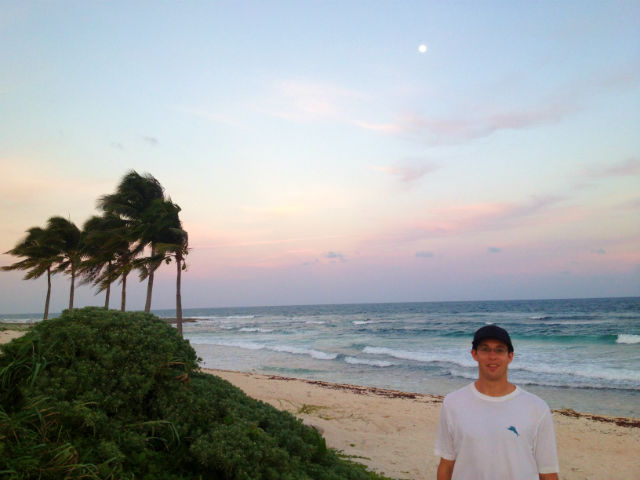 … That was quite a wonderful Monday! The last day we spent relaxing at the resort.
On our last night at Blue Bay, we ate in the Italian restaurant again because it was our favourite.
We were so blessed that the weather was sunny all week. The weather report was for rain most of the week, but after we landed in Cancun, it stopped raining as we were in the shuttle bus to the resort! And the sunny weather held all week until the last night, when there was a torrential downpour before dinner. We used an umbrella from the room and it was like another little adventure. We actually danced in the rain! After we left the Italian restaurant, there was a private wedding going on, on the patio… and Vera loved the music so we danced under the umbrella in the rain. It wasn't coming down so hard by then. A young lady from the wedding party actually ran out into the rain barefoot with no cover and asked to take our photo because she said we looked so cute!
Wow. It was a truly wonderful trip!
 We wish you all the best in life… and that you get everything that you want.
Bevan & Vera