If you have an amazing product or service, tell people about it!
For the past month leading up to May 15, I was telling people about our Vancouver Visionaries Luncheon which featured Markus Frind, the CEO and President of Plenty of Fish Media, valued at $500,000,000.00. The event was a success, the room was full and we got some great feedback. Attendees told us they want to be at future events.
Today I just want to show you a quick example of how you can generate leads with very simple tweeting.
One of the places we find people to invite to our events is from articles like this:
Introducing Vancouver's most promising young entrepreneurs (The Globe and Mail)
One of those people was Crystal Jiang, a social media strategist, who helps organizations build a social media presence to reach out to their Chinese audiences.
On May 13, I went to her Twitter profile, followed her and checked out some recent tweets. I retweeted something relevant and valuable to our audience on @604visionaries. Then I congratulated her on her success.
With Crystal Jiang, I didn't tweet anything about our event since she was located in Singapore, rather than the Vancouver area. I planned to invite her to a luncheon or one of our larger bi-yearly events after she had responded back and we had had a conversation.
She must have seen some of my recent tweets or seen what others said about our first luncheon, because in her response she said she looked forward to attending one of our events when she's in Vancouver. Here are a few of the tweets I had sent that same day: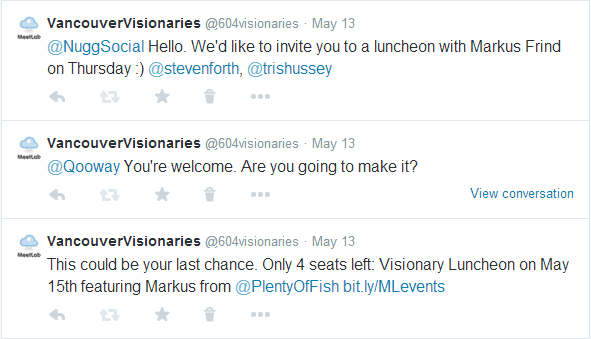 Here is one of the tweets of feedback about the May 15 event, which Crystal may have seen:
Crystal responded to my initial retweet and mention tweet with these two tweets:
There were some other (and much better) examples (such as my initial Twitter conversation with  @eSAXnetworking and @rorybeaupre) I wanted to show you today, but sadly this is all I have time for today.
Until next time, Be Bold and prosper!
Bevan