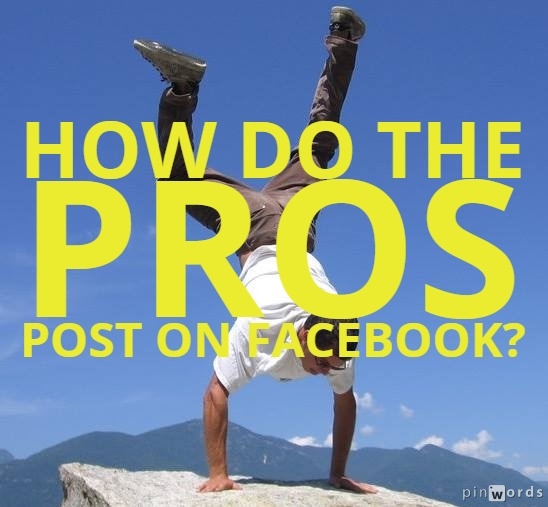 Hiya
It's Bevan Bird.
Would you like to spark massive engagement and get higher visibility? Do you want to build your own media empire? Want to enjoy the benefits of guerrilla publicity?
Today I want to show you how the professionals post on Facebook and share some lessons we can infer from their examples. Are you in?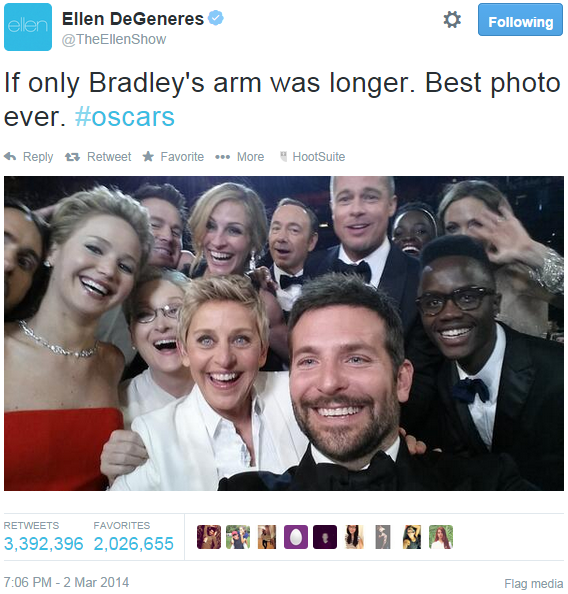 Ok, good. Let's go!
[pic coming…]
Everyone has their own way of posting to Facebook. Some mix a variety of post types, while others, like Seth Godin, post the same way every time. I'm going to focus more on how social media experts post on Facebook, but I'll also show examples from some favourite and highly influencial online marketers, and well known leaders in personal development.
It's widely known that inspiration is the most shared type of content on social media sites. The more you engage people into interactions with you, the more attention you will get on your message and the more your content will spread. Click here to hear Amy Porterfield say it :). If you want go scalable, check this post out.
You have to care about people and be interested in them. But you already know that… Let's jump right into the examples, shall we?
Here's a nice place to start. Jon Loomer, for Advanced Facebook Marketers, (#1 Social Media Blog 2014 Winner!) is sharing the creative work of one of his fans, which features him.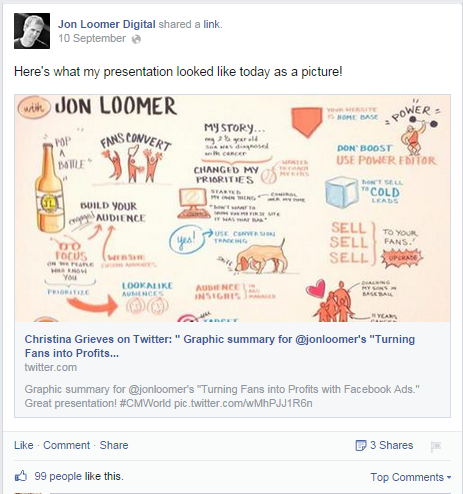 Lesson #1: Social media is not all about YOU! It's about your customers, clients and content consumers.
Another great social media influencer (#1 on THE Authoritative list, pics here) Sean Gardner, is sharing the spotlight with a co-presenter.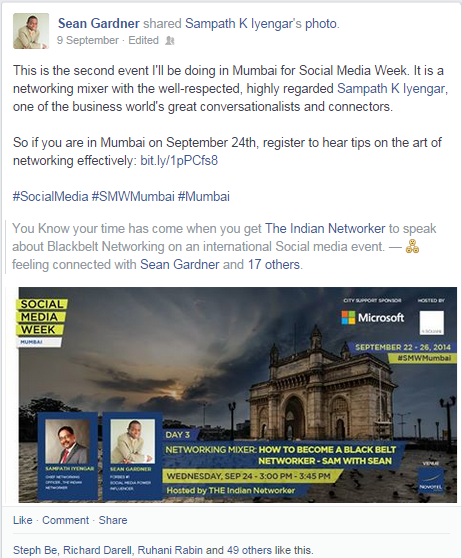 Lesson #2: Use your influence and attention to bring influence and attention to those who deserve it by the virtue of what they have done or the value of what they bring to the world.
It's telling how the top #1s on each of those lists (Forbes, Social Media Examiner) recently shared the spotlight with someone else with whom they are associated professionally or in some way related to what they do.
(And although Neil Patel (#1 on this list) didn't share the spotlight directly with Like.com in his post on Facebook, he did talk about talking about them in his blog post on how to post to your blog and generate the right leads which you'll see in a moment… and although Gary Vaynerchuk (#1 on this other list) didn't share the spotlight directly with others in his Facebook post inviting viewers to Episode 15 of the #AskGaryVee Show, he does make the show about them and prominently features questions from his fans throughout… and when he posted about his interview with Dena Blizzard at ABC Miss America, he does feature her socially in the post text itself; he "explains to @OneFunnyMother".)
Click the image to get to that post and you can also read his post about Like.com.
Why should you care? In Neil's words… "I remember when I wrote that post on Like.com, the founder called me within a few hours and offered a contracting job for a year. Considering that they raised $47 million, it's not hard to generate a few hundred grand from a blog post like that."
I was surprised how short the post was. That's inspiring!
Lesson #3: Share the spotlight! Focus on the needs or wants or fears or hopes or dreams of other people.
@garyvee's latest show… his post asks Facebook fans what they think of it.
Lesson #4: Ask questions to engage your audience. Answer their questions to show them you care.
Lesson #5: Share what you are most passionate about! (The world needs more people who have come alive!)
And now, as promised, his interview with the delightful Dena Blizzard (her photo goes to her Twitter, go ahead and say hello
)…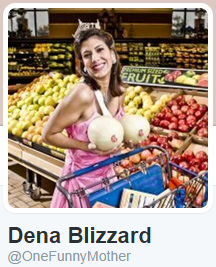 You can click this post to watch the video… and Like Gary's Facebook page if you haven't already.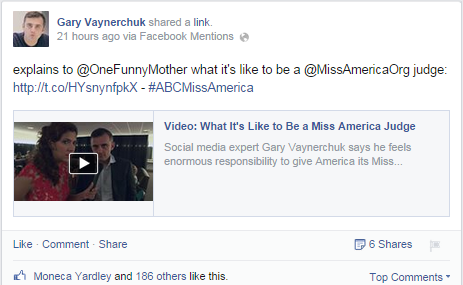 Lesson #6: Entertain them!
In all seriousness, let's get our focus back to social media marketing. Don't make me make you take the NOBNOM challenge. Don't ask. (Sex is allowed, though; read the article for the many compelling benefits to abstaining from ______ it.)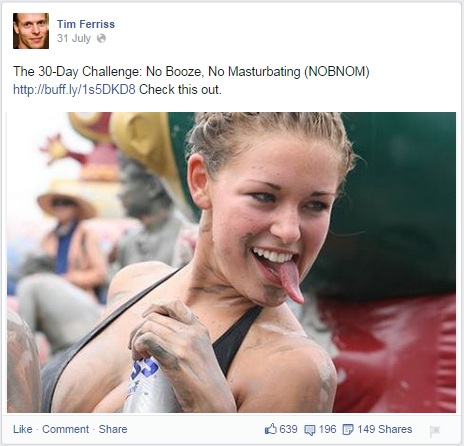 Genius naming, there. (If you don't get it, say it with me, in two words; you know how women say nom nom sometimes right?)
Tim Ferriss (#4 on this Influencers list at Entrepreneur.com) shows an even more enlightened side of himself when he shared this video. May this video bring you Great Peace in your heart. (Wanna see it? You know the drill. Sometimes I make the photos clickable, sometimes not… only one way to find out.)
Lesson #7: Let them see the real you. Open your heart.
Lesson #8: Share something that will enable people to EXPERIENCE something you want them to FEEL.
One of the commentators wrote, "The tranquility and peace that come out of this video are amazing."
Mission accomplished.
Which is what the most recent post by Mission: Impossible says. Wow, I'm good! (I jumped to their Facebook page to maybe grab a post, thinking I'd have to look around to find a good one to go with those two words, but it was right there on top.)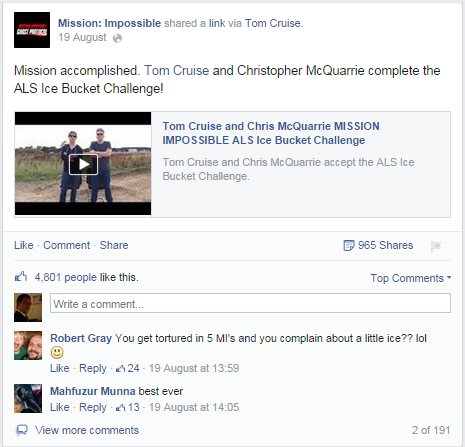 The ALS Ice Bucket Challenge is getting all kinds of press these days.
Forbes (lots of times !), Mashable, National Post, NBC News, The Guardian, Financial Post, Daily Mail, TIME (LOL, Kim! See below…), Global News BC, Northern Life, Win News, Bo Stern (her post got 824,000 Facebook Likes, so I'm including her as media in this case), The Verge (a Page Rank 7 site, the 530th most trafficked website in the world), & The Daily Currant to name some media sites.
That's just a sampling of the exposure that silly challenge got.
You might be interested in:
Four Lessons Brands Can Learn From the ALS Ice Bucket Challenge
The Science Behind The Success Of The ALS Ice Bucket Challenge
And here's another Ice Bucket Challenge.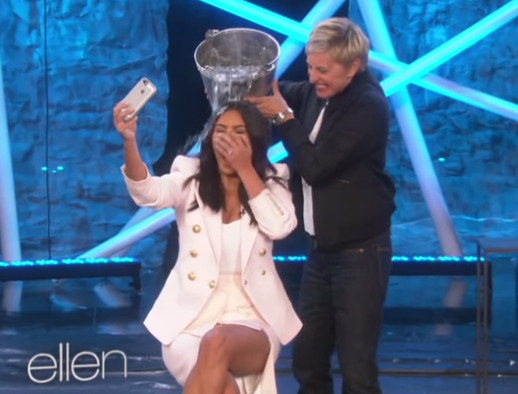 Oh, Kim and her selfies.
And while we're on the topic of selfies, what about that selfie Ellen "orchestrated" at the Oscars that broke Twitter?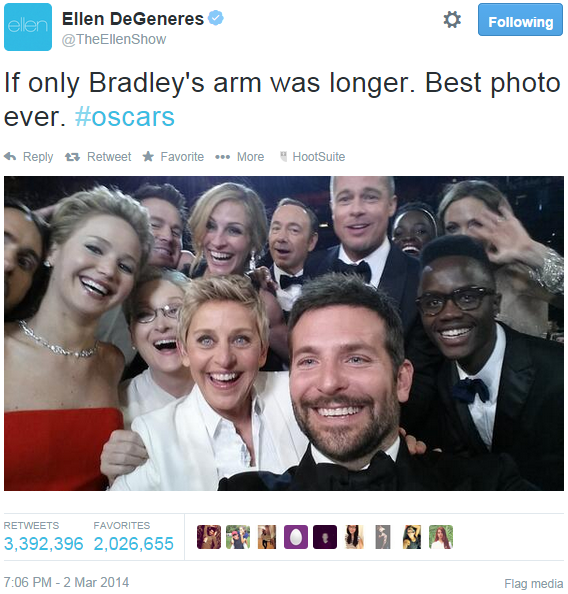 Apparently, since Bradley Cooper (ALS Ice Bucket Challenge here) was the one to click the button, he owns the copyright and bragging rights for the most famous selfie in the world (so far). Click the photo to see the actual tweet and responses.
Lesson #9: On another note, in Online Marketing, and actually in marketing in general, it pays to be first. The page with Bradley Cooper's voice (managed by family members), where he's providing REAL VALUE has only 19,435 likes today and it was started on March 12, 2013. The page that "joined Facebook on August 15, 2011″ has 5,509,187 likes and provides no value, aside from having a link to whosay.com. By being first (almost two year head start on the smaller more real page), they gained critical mass and were the largest page, so people gravitated to them when they wanted to show that they were his fan. They're piggy-backing off his success! How could they? Well, you can too, now that you know this "secret". And let this be a lesson to all you Famous and wanna-be famous people… Claim your pages on the social media sites before someone else beats you to the punch!
By the way, Whosay could drive way more free traffic if they start posting celeb photos and news on the celebrity pages they've created. Hello!
The photo surpassed the record set by U.S. President Barack Obama's "Four More Years" re-election victory shot. The picture of Obama hugging first lady Michelle Obama on election night in 2012 has been retweeted more than 780,000 times. This photo was retweeted over 3 million times. What's next? Really, I want to know!
Did you see this? Obama teased Ellen for her 'cheap shot' selfie…
I'll admit, I got a little bit distracted after the Tim Ferris post. But that was some interesting stuff and I hope you learned something valuable from the diversion!
Social Media Examiner (the world's largest online social media magazine) let us know today that there's now a Buy button on Twitter. So Twitter has followed Facebook's suit in adding call to action buttons.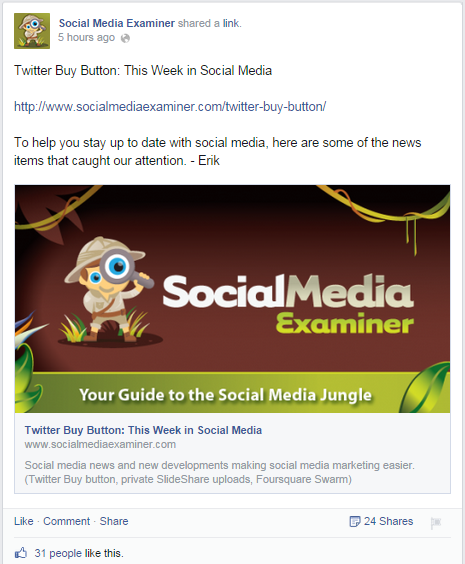 Lesson #10: Be informed on what's happening in your industry (you can make a Twitter list of the influencers and your peers) and keep your followers informed, looking out for their best interested. This is also a form of curation. Focus on quality of information that you share, over quantity.
Now, let's move on to Amy Porterfield (Social Media Strategy Consultant), who really knows how to get massive authentic engagement for brands. In her own post, in a pleasant, outgoing, conversational way, almost the way she would talk with her best friend, she's letting her fans know what she's been up to, gets them curious and excited, anticipating what's to come… and shows that she's interested in them!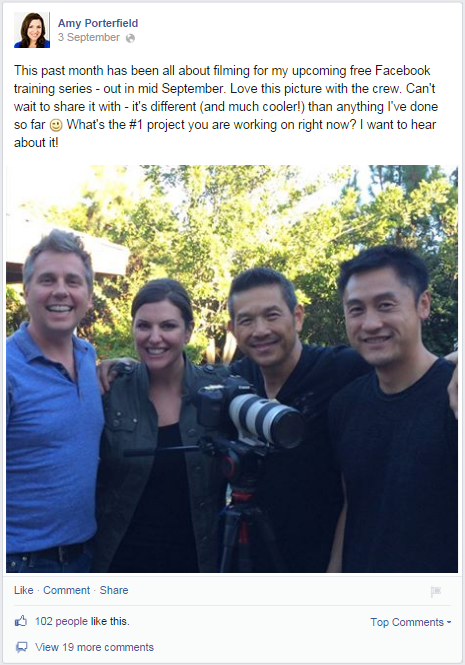 You can watch an interview with Amy on the Adventures in Visibility Hangout with Denise Wakeman: Navigating Facebook to get Better Engagement Without Buying an Ad.
Lesson #11: People will be interested in us if, first, we are genuinely interested in then. (How to Win Friends and Influence People.)
Lesson #12: Be real, be yourself and speak and write conversationally for optimum engagement!
Lesson #13: Make people feel important. They have a deep need to be heard and to feel important.
I'll illustrate this. On two levels at once.
I was talking with a transformational coach about how I can help him. He had told me he puts out amazing content but doesn't get much engagement.
We were looking at the posts on his Facebook page. Here's what I suggested to him…
[I'll leave out the photo I'm referring to until I have permission.]
One thing you could do on that last post with the butterfly is tell a short personal transformation story about someone experiencing their own richness within … or a story of when you first felt this YOURSELF!
Just a short paragraph is enough, a few sentences.
If it's engaging, people will want more, and they'll comment. You want them to ask you questions.
Once you create a public dialogue and more people are chiming in with their experiences or OPINIONS… your reach will increase further and further.
People want to tell their own stories… if you provide a platform for them to express themselves and be heard, they will love you!
And they will be very interested in your story (or stories) of transformation too. Tell it often, in different ways, different perspectives, different contexts…
I hope that helps.
He called me right away once I demonstrated value to him. This is like Neil Patel's post about Like.com on a smaller scale.
Lesson #14: Help people solve problems and you will invited into their lives with open arms!
Now, here's something I love it when people do. Create content collaboratively with their audience. Involve fans in the creation of the product. Ask for input. It's part of Jeff Walker's (he's known for Product Launch Formula) "Seed Launch" for when you have no list and no product but you want to get into business.
Check this out. Sean Gardner making his live presentations even more inspiring and relevant by asking for stories from his friends. This is the gold right here.
He's the #1 most powerfully influential person in social media according to Forbes and he's super humble. He's always looking for a better way to serve and give more value.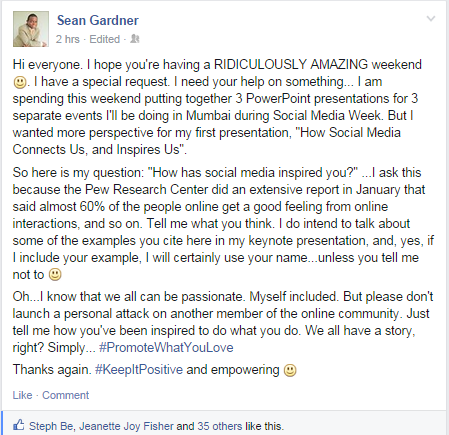 Lesson #15: Ask for input to improve what you do EVEN more… even if you're the best!
But it doesn't stop with the question. You must engage and interact. Listen and love. (Thanks Warren Whitlock!) And… Here he is now. Another of The Top 10 Social Media Power Influencers and host of Profitable Social Media Show. Here he is curating content and adding unique value that can only come from his experience…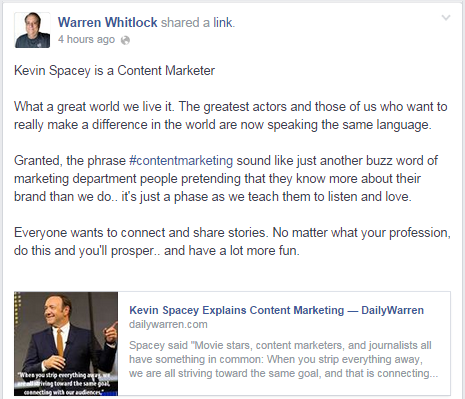 Lesson #16: Listen and Love.
Lesson #17: Help people connect and tell stories… you'll prosper… and have a lot more fun!
And so on…