I noticed my friend's post today inviting people to join her movement, but only her friends could see it! What about everyone else?
She could increase her potential reach by making it so that her friends of friends or the public can see them. You can do this too, so that more people can see your posts, and you can gain followers and new friends easily.
So, I made this quick tutorial to show you how to make your Facebook posts visible to the whole world, instead of just your friends.
She told me she was using her mobile and doesn't use the Facebook app. If that's you too, then these images will be pretty much what you will see too.
First, click the symbol below the text entry box, circled in green in this image: (The symbol may be different, it doesn't matter what it is, just click the button at that location.)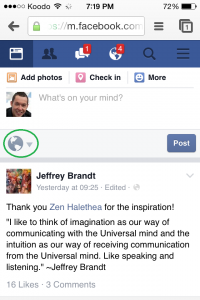 Or if you're already updating your status, you'll click here:
Then select Public, so that more people can see your posts, and you can gain followers and new friends easily.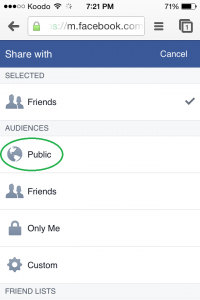 Then, the setting will have changed, and your post will be able to be seen by anyone, instead of just by your friends. This way new people can discover you and the amazing gifts you bring to the world! And more people's lives be changed for the better. And you can earn more money and live a better lifestyle too. Everyone wins.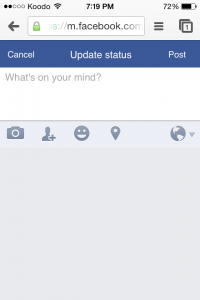 Write something thoughtful that will help your friends better their life. Here's an example:
Build a powerful network

Every time you go on Facebook, make sure you communicate with your most influential friends who are like minded and who are doing what you want to do, or already are where you want to be in life, rather than just anyone.

Who you communicate with on a daily basis matters and has a large influence on where you'll be in the future.
Believe in yourself.
When I posted that, it positively impacted my friends' lives:
You are welcome to take my words and simply copy and paste them as your own post. I'm giving you the rights to do that, right now! You don't have to attribute me or anything. Simply copy, paste and post
Now that you have changed your privacy setting to public, that will be the default from now on, until you change it again. You're going to reach way more people in the coming days, weeks and months! Yipee!