Yes, interacting with your fans will lead to more sharing… and more people finding you, and today I'm going to share an example with you to illustrate this.
I'll also show you LIVE how turn someone who didn't know me from Adam yesterday, into a real FAN, from scratch!
Stay tuned…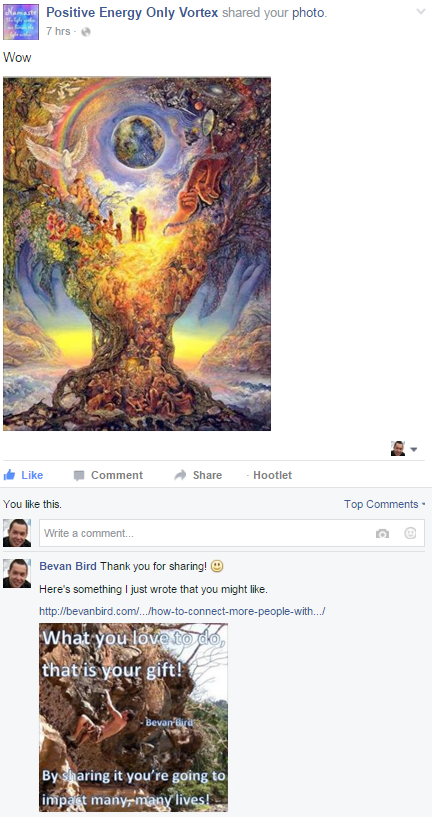 That is what I did this morning, sharing my most recent blog post with a new potential fan.
I found out that this page (Positive Energy Only Vortex) shared a photo which I had shared on Facebook as part of a collection of photos to connect people with their creative self.
How did I find out? By looking at my notifications.
Let me back up a moment.
This started with Deedar Shaikh liking a bunch of these photos in the collection I mentioned.
I noticed him doing that yesterday, by looking at my notifications, and appreciated his attention to my creative work.
Here's what I did: I commented on the photo that he commented on. You can see that here:
This is what happened after I replied to his comment: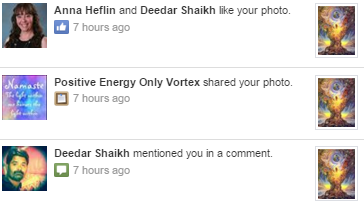 Here's what I realized:
1) When your friends or fans interact with your posts (like, comment or share), new people can discover them because of that activity.
2) When you respond to your friends' or fans' comments, your post will be shown to more people again.
So the way to make this work for you is to post something valuable to your friends or prospects (I'll show you an example in a moment) and then allow the likes, comments and shares to build up for a while, while you do other things. And then return and like their comments and/or respond to them, making them feel special and important.
Okay, here's the example:
There was this much meaningful engagement because the words and energy of my post and photo resonated with my friends, and also because I responded after the first round of engagement subsided, or rather, after 40 minutes. I simply liked each of the first four comments, sent them good vibes and wrote one quick comment. Then the incoming interaction increased, and you can see that today there are 74 people who liked the post.
It didn't start out that way, just a few people liked and commented. But by responding to them, more and more people were drawn in.
Take what you've learned here today and extend your reach and your network by interacting with your fans.
A couple more tips:
1) Share your posts with the world, instead of just with your friends.
2) Make your profile wide open to the world. Allow people to follow you and allow friends of friends to comment on your posts. With a limit of 5000 friends, it's hard to accommodate everyone so making your profile just as good to a non-friend as a friend is a very inviting thing. (Thank you Adryenn Ashley for this tip.)
By the way, the page that shared my photo (Positive Energy Only Vortex) is run by someone like myself. Here is the About section on their Facebook page: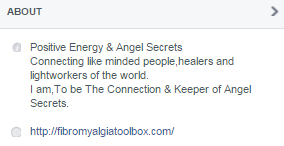 I used to call myself the Energetic Connector, connecting the leaders of the light tribes. Since then, it has become more truth than fiction, and I now serve heart-centred entrepreneurs, spiritual people and healers, helping them build their tribes so they can impact more lives and life their dream lifestyle.
So, you see how sharing your true self attracts people like you to you. And when you're connected with like minded people that all want the same things, you become more powerful and it's easier to succeed in your mission.
Here is a touch I made to initiate the conversation and relationship with the owner of the page: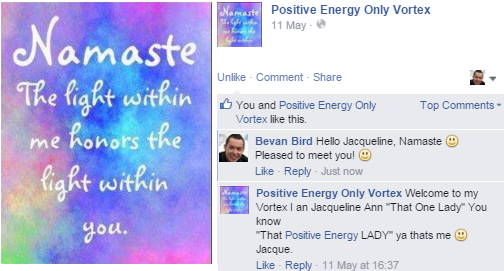 Here is another example, from right now. This page (which I didn't know existed until now) shared my content:
That's my previous post, the one I wrote this morning, sharing the message that was put on my heart to share with my tribe and the world.
I left this comment to thank the person sharing:

And I also shared her post into a group where I thought people would like to know about her: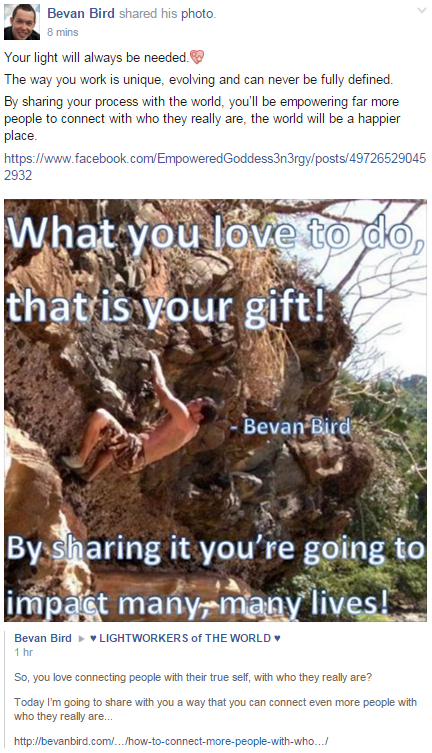 Although it mostly looks like my post, I did use their words and it does have a link to their page.
Here is what the person behind the page did to respond to my comment on their share of my initial post: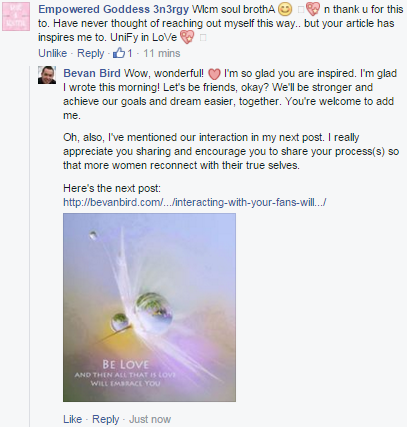 And there, I shared with her this post you're reading now, because it continues, building on the thoughts of the first post… so that if you apply what I taught in the first post, creating content that teaching people how they can connect with their true self (as Esther Bartkiw has with her gift of being more of your own soul's energy and removing foreign energy entities, which you can get at her website WhispersFromTheSoul.com by entering your name and email under Do This Every Night Before Bed For An Instant Shift, as seen here: )
… if you create that content and share it, you're going to start attracting people and if you've never done this before, then you'll be building your tribe from scratch… or if you're already a publisher, you're just going to be reaching people at a deeper level and attracting more authentic people like you into your life… and what are you going to do with that attention? This post you're reading now gives some suggestions.
Back to Esther Bartkiw's example. I wouldn't have known that she has that full protocol available to everyone for free from her website, if she didn't tell me on this post when I mentioned her soon after discovering her through Eram Saeed (and her telesummit From Heartache to Joy.)
So do as she did, and interact with your fans! She just got herself another backlink (from this post you're reading) and perhaps a new stream of subscribers as I tell people about her.
You might be wondering how I got her to comment on my post? Well, after I found her and decided she was awesome and someone who connects people with who they really are (these people are my tribe), I decided to reach out and connect with her. I searched her on Facebook and sent her a private message and a friend request.
In another post I will show you examples of the kind of private messages I might send to someone as an initial touch.
Here's another example. On my grateful and self-empowerment post, I left a comment today (11 days after the previous comments ended) linking to this post you're reading now.
Pete Taboada, who sent me a friend request yesterday (which I accepted) and who is an awesome artist, commented on it, and you can see our little conversation here.
What I didn't show you is how I interacted with a few of his posts today.
And back to the post we started with today where Deedar Shaikh's interaction inspired me to tell these stories… I responded there again and linked to the earlier post from today.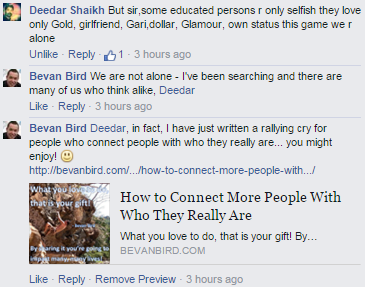 And here's a bonus example. Errity Green was the inspiration for my post yesterday (that's a good practice, allowing your tribe to inspire the content you create to serve them) and today she has commented on my share of that post (How to make your Facebook posts visible to the whole world, instead of just your friends.)
So, I'll show you how I responded to that just now: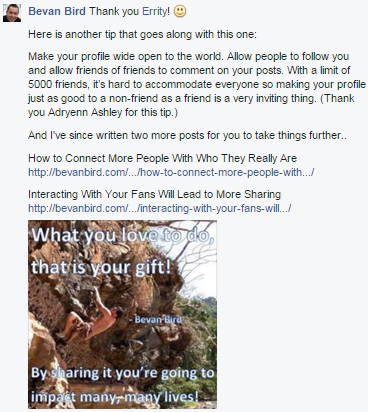 The post I saw of hers (and I saw it because I went to her wall, probably after she had interacted with my posts, so I knew she was getting value from what I'd been publishing on Facebook lately) was this one, and only her friends could see it:
Now the world can see her post, because I cared about her personally and sent her a message about it.
Now, I'll let you in on a secret. While I was on her wall just now, I noticed over on the left hand side, under her most recent likes…
The Female Entrepreneur Association. This is a page, where I might want to target my Facebook advertising to their fans.
Also, one more tip… If you also visit the page linked to by See More Suggestions and save that link too (here you go) you'll see similar pages and can discover more great places to meet more of your ideal clients, referral partners or JV partners, whatever your intention may be. Here's what it looks like: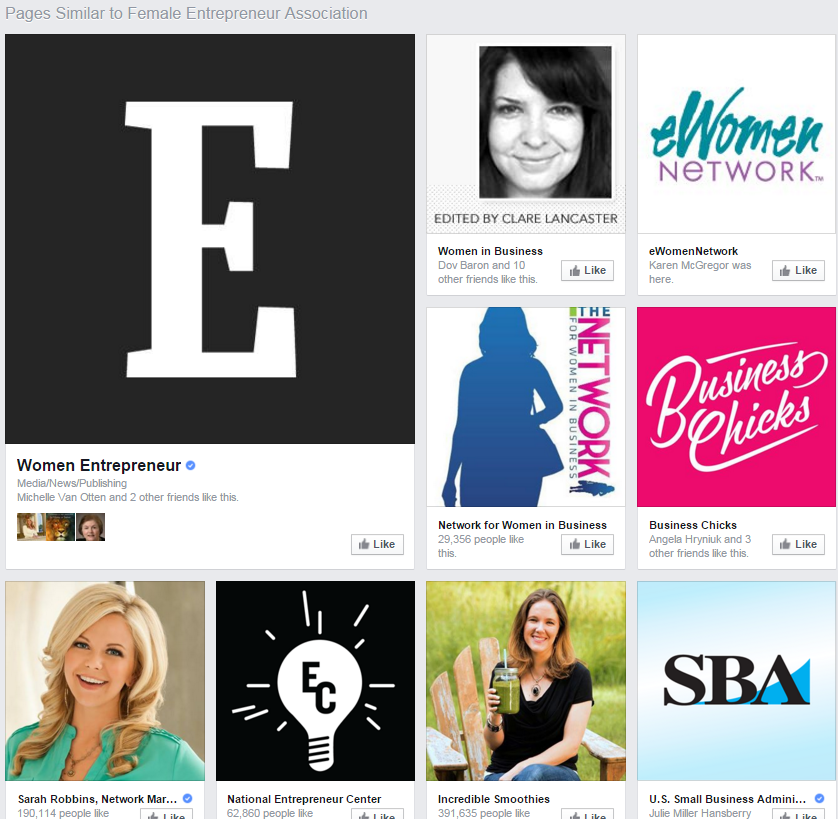 I add this page and the similar pages link to one of my spread sheets which is a list of influencers or top websites where I can meet people (there are lots of ways to meet people with your message, such as guest posting, being interviewed, advertising on the website)… When you want to build a big platform, a big tribe, in preparing to "generate targeted traffic" as they call it in online marketing (which means meeting the right kind of people that you can help) you should make a list of the top websites and influencers.
Here's an example of me doing that for one of my supporting sub-missions: healing the relationship between spirituality and money, so that healers and spiritual people can realize they can have it all!
[Video] Build a Big Tribe – Prepare – Create a Targeted List of Influencers Part 1/2
And finally, I'll show you an example of something I just did when I was in The Spiritual Entrepreneurs group posting a link to my new blog post of this morning. I looked around a little and saw this post…
That was something I could add to. And this is great targeted content marketing by the way. Often it's the photo that  captures people's attention first and she's asking a question there that her ideal client will identify with. Very smart.
Here's the comment that was already there, and you'll see my comments too.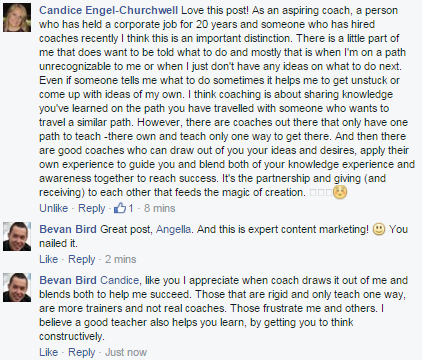 I resisted the urge to brag. I almost wrote about an experience with someone I was doing a complimentary consultation for, where they told me I really understood her, I "got her" and that when I shared ideas with her, she could really see how it all fit together and how it made sense, but when others would share things, it would just make her overwhelmed because she didn't see how the pieces fit together. Well, I'm going to give thanks to Sean Mize, one of my coaches, because he helped me see the whole online marketing system holistically, and that's one reason why I could communicate with her in that way.
They say the wisdom is knowing a lot but not saying it.
Here's what happened next. She liked my comment there and she started following my posts.
Then I saw that she liked one of posts which was for people starting out.

Then I noticed she had sent me a friend request. Maybe she actually did that first, and that's what notified me that she followed me.

I accepted it, and as I always do, I sent her a message. Friends without any conversation will be useless to you. You have to communicate with people, like I've been showing you all through this post today, to build relationship and trust with them. And that's where the gold is, in building real relationships and seeing where things go.

Instead of letting her know I'd be happy to be a resource to her about coaching / marketing coaching services, I just left it at that, and let her talk. I can always tell her things later. It's important to build rapport with people first. Keep it really simple, and you'll be able to connect with so many more people with so much less effort.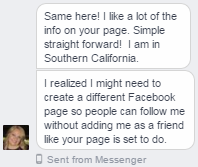 I goofed and pasted the image into the chat box (don't do that!) but I made up for it by quickly answering her question and being honest about what I was doing so she wouldn't become suspicious and distrust me.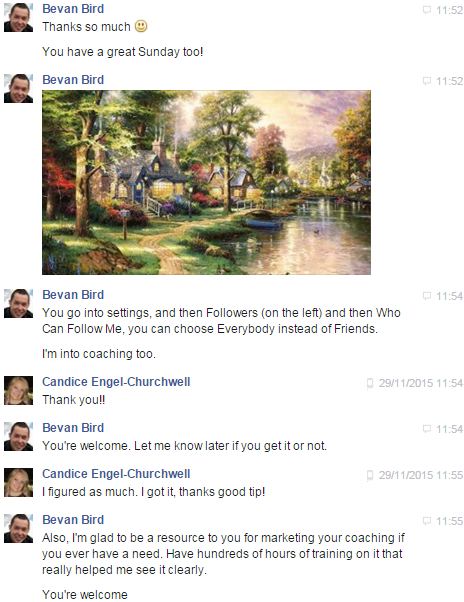 There, see, I told her I'd be glad to be a resource to her, after we established some rapport.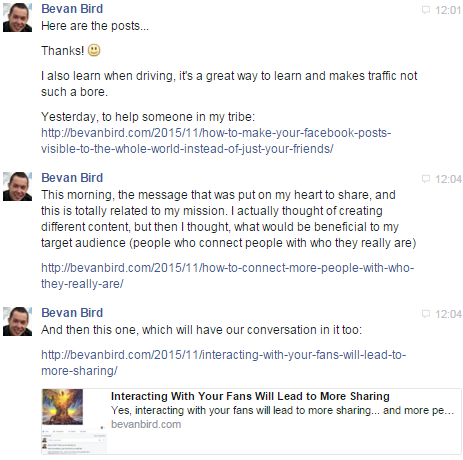 See what happened there? I genuinely cared about her as a person and shared a helpful tip, and I created a real fan. You just witnessed that today in real time. I just literally did that from scratch with someone who didn't know me from Adam yesterday.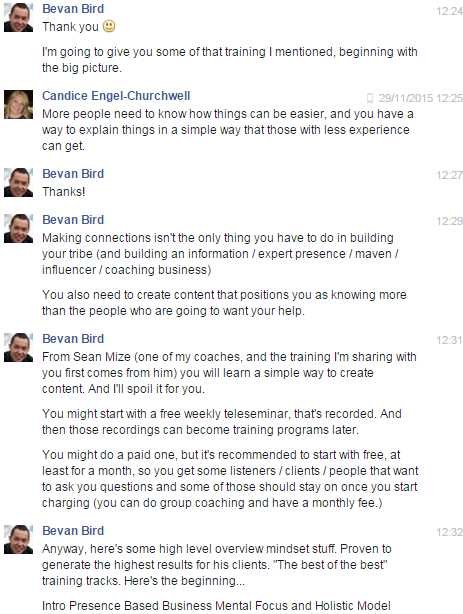 And I shared a few mp3s with her.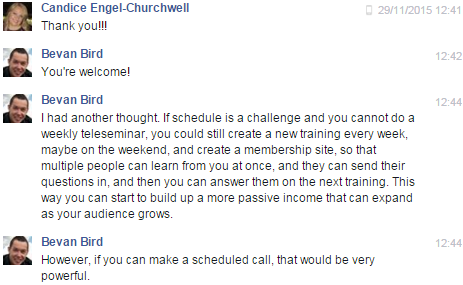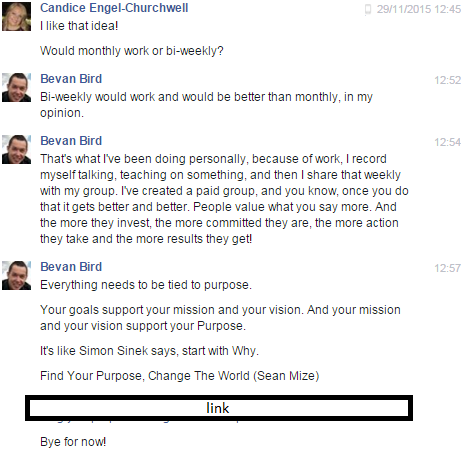 Yes, purpose is super important. Start with your purpose. Make it clear.
And work on it joyfully every single day!
My comments on Angella's post in The Spiritual Entrepreneurs group actually attracted me another connection. Well, they got me one more like. But the person who liked my post I deemed a good person to connect with, so I left a comment on one of her posts on her wall. And she sent me a friend request too. I show the details in this video:
If you'd like help building your tribe, come on over to Tribe University and join today for free.
Thank you to everyone who liked, commented or shared my posts, and everyone reading this post. You rock!
Your friend,
Bevan Bird