This is a view from my apartment in Coal Harbour, looking west, out into Vancouver's harbour, shot just now. You can see ships from China and part of Stanley Park. What do you think of the view? (Interesting fact: this is the same building that Markus Frind, the creator of PlentyofFish, lived in when he created it.)
Would you agree that it's important to choose a great image for your blog posts so that you capture the attention of people on social networks and they click and check them out?
Growth hacker Nate Desmond thinks it's interesting that people spend so much time writing content and headlines, but often resort to simple stock photos for the post image… so he wrote a great post outlining 5 aspects of great images for your blog post, to go along with your great content and captivating headline. They are…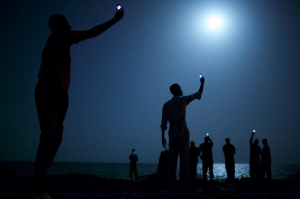 #1 Relevant
#2 Authentic
#3 Colourful
#4 Emotional
#5 Curiosity-Raising
Read his post to learn more and let me know what you think!